I wouldn't believe unless I saw it with my own eyes: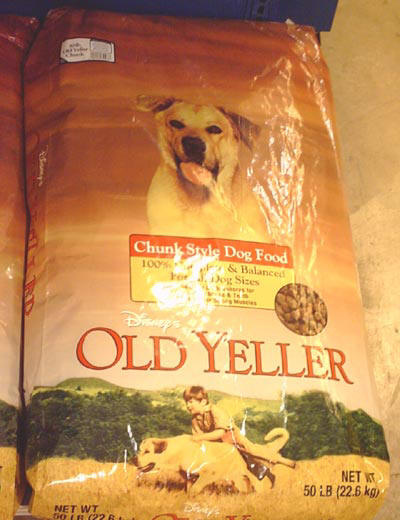 In conjunction with Disney, Kroger has begun selling Old Yeller Dog Food based off the movie depicting a young boy's emotional journey with his dog, set in the 1860s.  Old Yeller (named for his color, yellow/yella) and the boy become very close and engage in numerous frontier adventures.  Then the dog gets into a fight with wolf, gets bit, becomes rabid, and the boy shoots him in the head with a rifle.
The movie sometimes goes by its alternative title: SADDEST MOVIE EVER.
Or, in the words of the geniuses over at Kroger and Disney: "The movie is a timeless classic that transcends generations, and we believe this brand will appeal not only to original fans, but to the millions of Americans who share the same kind of special bond with their beloved dogs," says Barry Vance, Kroger senior corporate category manager.
"Bringing Disney's Old Yeller brand to a trusted retailer like Kroger was a natural fit," says Christopher King, category director, Disney Consumer Products FMCG. "Disney's Old Yeller dog food is for those dogs that are part of the family."
Did these people watch the same movie?  What are they trying to convey with this branding?  What's next, Titanic bottled water?
Remarkable.
Like this post? Check out others like it: