I'm becoming kind of fixatated on hair. It started with my students, and mostly the guys. There's a trend towards funk. I don't mean P. Funk style, though one can certainly see there some roots (puns are cool, you know it) in George Clinton's glorious mane.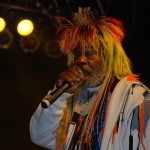 Okay, I'm not saying that this look is hot right now — but certain variations on the theme are. This makes me feel old to say, but college students do keep one somewhat attuned to the hip/ster look of the moment. And these days, I see a lot more variety in guys' hair — one student has a Two-Face thing going on, another has a wild layered shag that requires constant handling; the faux hawk is still around, and frosted tips are coming back. And these aren't even emo kids I'm talking about.

That's what I find most interesting–the diversity of it all, and the way that no style seems clearly identifiable with any particular ideology. I dig it, in the same way I like watching this generation of college men, or at least some, being far more, well, liberated in their performance of gender.
Today's NYT contains an article by David Colman about this very issue, noting both the historical use of hair as identification and the present play with those very notions:
Once upon a time — say, 40 years ago this week, when long-hairs thronged to Woodstock by the hundreds of thousands — you got a hairstyle to show the world your affiliation, to brandish a cultural identity defined by your musical tastes, your political views or how depressed you were. But such literal interpretations of hair appear to be utterly passé, even if the hairstyles themselves are not.
And check out this slideshow.
This really brings up the central rhetorical question of intention and reception — which one "counts" in terms of a text's "meaning"? If I were to interpret my students' 'dos as representative of beliefs or values, I might be way off base. But then again, it's quite likely I wouldn't  be the only audience with such an interpretation, and that such readings would influence, well, "reality." So what would the hair mean? As Colman concludes, "To turn an old ad slogan on its head: Not even his hairdresser knows for sure."
Like this post? Check out others like it: