I was lucky enough to spend yesterday afternoon at the MoMA experiencing the Marina Abramovic performance art retrospective.   Abramovic tests the boundaries of the body and the mind in her pieces and disrupts the traditional relationship between performer and audience.  For Abramovic, the body is a medium for argument.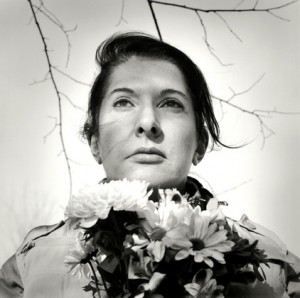 In one of her early performances, she sat herself in public beside a table containing things such as knives, a gun, and a bullet.  A note on the table invited passers-by to do to her what they wanted.  For six hours, she endured people cutting her and sucking her blood, undressing her, carrying her, and putting the loaded gun to her head.  In another piece, she and her performance collaborator stood naked in the entryway of an art museum.  They positioned their naked bodies so anyone wanting to enter or exit the museum had to pass through their naked bodies and had to choose whether to face the naked man or the naked woman as they slipped through them sideways.  This performance piece is being recreated for this retrospective, so a contemporary audience can experience it for themselves.
In addition to videos and live recreations of her performances over the past four decades, the exhibit includes Abramovic herself performing her longest-running solo piece "The Artist Is Present."  For this piece, she is sitting in a chair facing whoever sits in the chair opposite her.  Visitors to the museum take turns sitting in the chair opposite her and are invited to stare into her eyes for as long as they wish.
Abramovic's pieces are moving, engaging, and sometimes disturbing.  Not surprisingly, they are effective as a medium for political, social, and cultural arguments.
Like this post? Check out others like it: