Perhaps some of you will remember a post I did in December about the Pop-Down Project, a street art campaign that aimed to reorient our perception of everyday advertising. By sticking red click-it boxes resembling those in internet pop-up ads in the corner of street advertisements, the campaign asked its audience to consider a city experience that was free of ad-clutter.  Of course, the campaign's assumptions say loads about how we perceive our environment in an internet age and how we understand our ability to control what enters our visual field.
A related adbust has just, ahem, popped up in Berlin.  A subway there got re-photoshopped — interfaced, if you will: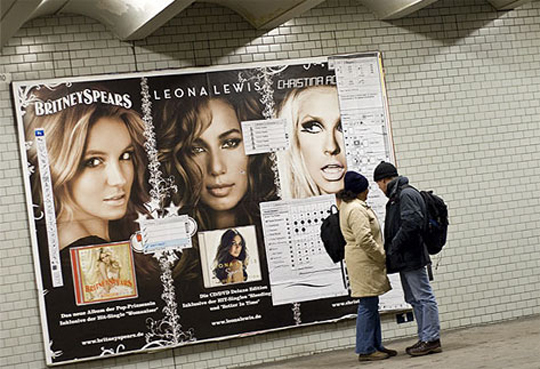 Once again we have a reframing of how we perceive images at street level by framing the picture in an interface.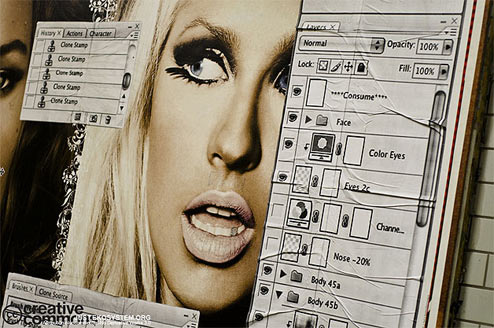 This particular subversive act positions its viewer as active — in giving the viewer the illusion of control, it says, "go ahead, mash and mix it up.  Interact with your everyday images in a more engaged way, just like you do with your images on your computer."  The tools to powerfully manipulate images towards persuasive purposes are being increasingly democratized.  Protest tactics are changing as a result.
Chris Higgs, a blogging prophet, claimed at one point that our generation is and will be defined by its ability and penchant for Remix & Mashup.  The writing is on the wall . . .
Like this post? Check out others like it: