In the most recent issue of Harlot, my colleague Paul Muhlhauser and I published a satirical piece critiquing what we learn about genders and work from the November 2009 J.CREW catalog.  Yesterday, we posted a comment on our piece that extends our critique to the most recent issues of the catalog.  I'm copying our comment here for your delectation (and, selfishly, in hopes that some of you may enter the conversation we were hoping to start with our piece).  In case you didn't know, each piece published on Harlot is "comment-ready".  Just click on the "Add Comment" link below the piece and make your contribution!  [Caveat: you may have to register with Harlot if you are not yet registered.]
EXTENDING THE CONVERSATION (our comment on How Genders Work: Producing the J.CREW Catalog):
To be fair to J.CREW, they did "follow up" the Real Guys Relate feature with another issue that featured "real" women—women and their jobs. However, the feature is titled Who's that Girl? rather than Who's that Woman?. When women work, they are just girls. This sends the message that women's jobs are really not equal to men's.
Besides being called "girls," these women are referred to as "muses" and "muse-worthy" in the introduction to the feature. This means they are sources of inspiration for others. In this context, the women inspire more than the job descriptions offered. What is striking is how these "real" women display behaviors consistent with women in How Genders Work.

Though women are named and their jobs are listed, "girls" continue to be posed like the models in the magazine rather than the men who are aware of their positions and surroundings. Women's posturing is still flirty as their toes are pointed inward, and they often look off to the side unaware of their surroundings and out of context. In addition, as if to counteract the effect women with jobs would have on a reader by unsettling a stereotype, J.CREW profiles the men who work at the British journal Monocle. These men become even more real as they are positioned in contexts of offices, city streets, and studios. The lesson we learn from this issue is that real men do real work—they exist in a real world, in context. Real women, on the other hand, may have real jobs but their work is to [a]muse.
To make matters worse, the issue following Who's that Girl? once again features "real" men as workers and women models as flirtatious and air-headed. There are no "real" women in this issue. The theme for the issue is nature (as in landscaping, farming, and gardening). The instructions show us that women are incompetent and disengaged with regards to nature. Nature, for them, is an accessory. One model, for instance, looks as if she doesn't know how to pot a plant. She holds it as if waiting for someone to help her. Another holds flowers—doesn't do anything with them. Flowers are part of her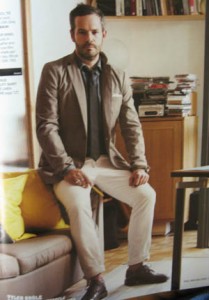 "look."
Men, in contrast, work with nature; they are competent and engaged. Rather than presented as an accessory, nature is presented as part of work and their livelihoods. In this feature, we return to the studio to learn about "The Naturals." These "real" men are landscape designers, landscape photographers, agricultural directors, goat farmers, and agricultural farmers.
As these catalogs demonstrate, J.CREW has not changed their representation strategies. Though J.CREW attempted to represent "real" women, they failed. Our instructions still produce the J.CREW catalog. A second edition of our textbook would have a section for girls, muses, and jobs.
Contribute to the conversation!
Like this post? Check out others like it: