However debatable Facebook's new layout is, it does allow you to access Harlot's Facebook blog app with great ease from your Facebook account. This, I believe, is worth noting for you dear compatriots of Harlot and Facebook.
First is first. If you haven't already accessed and approved the app from your account, you can do so by clicking this url: http://apps.facebook.com/harlotblog/
The second step is to bookmark the application. This is how you do that:
1. Go to "Account" and click "Application Settings."

2. Find "Harlot Blog" and click "Edit Settings." (If you haven't used the Harlot app in over a month, then you'll have to change the top right drop down menu from "Recently Used" to Authorized" and find the "Harlot Blog" in that list.)

3. Choose "Bookmark" from the pop-up menu.

4. Click the box to check "Bookmark Harlot Blog."

Yay! It's bookmarked! Let's return home.
Lastly, you know that column on the left of your home screen? The one with your profile picture, news feed, etc: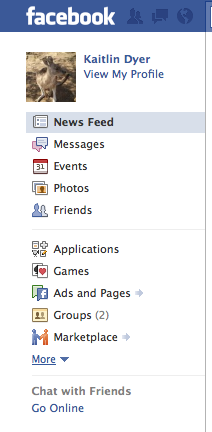 To see your bookmarks, click the "More" at the bottom of that list. This will show you the "Harlot Blog" app.

From now on, you'll just have to click on that link to take you to Harlot's latest blog posts right from Facebook! Of course, we love it when you stop by the site or use your favorite feed reader too. Don't be a stranger now, ya hear?