Those of you who use gmail no doubt noticed this week's launch of "Google Buzz," another social networking project. I clicked in briefly, figured it was just another variation on Facebook, and went back to my emailing.
But it turns out plenty of people reacted much more strongly — and for good reasons. What I didn't look too closely at was an immense consolidation and public-ization of Google-related activities: "Your Google Reader shared items, Picasa Web public albums, and Google Chat status messages will automatically appear as posts in Buzz." And I was automatically linked in — "14 people are already following you." Creeeeepy.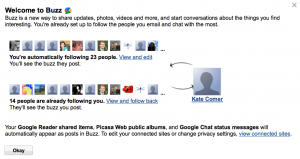 Google's ready-made network revealed common email/chat contacts, leading to all kinds of privacy breaches. And in this case, the stakes are far higher than the romantic escapades common to Facebookers. In today's NYT coverage, Miguel Helft points to the difference:
E-mail, it turns out, can hold many secrets, from the names of personal physicians and illicit lovers to the identities of whistle-blowers and antigovernment activists. And Google, so recently a hero to many people for threatening to leave China after hacking attempts against the Gmail accounts of human rights activists, now finds itself being pilloried as a clumsy violator of privacy.

As Evgeny Morozov wrote in a blog post for Foreign Policy, "If I were working for the Iranian or the Chinese government, I would immediately dispatch my Internet geek squads to check on Google Buzz accounts for political activists and see if they have any connections that were previously unknown to the government."
The key point here, of course, is that despite the publicity trends online, people still think of email as a private realm — and Google ripped down that curtain, leaving people feeling exposed and vulnerable. And they're pissed.
Google is known for releasing new products before they are fully ready and then improving them over time. But its decision to do so with Buzz, coupled with its introduction to all 176 million Gmail users by default, appears to have backfired.

"It was a terrible mistake," said Danny Sullivan, a specialist on Google and editor of SearchEngineLand, an industry blog. "I don't think people expected that Google would show the world who you are connected with. And if there was a way to opt out, it was really easy to miss."
It seems that Google was just so darn excited — and expecting its users to be same — about the idea of enabling more seamless access and interaction to think much about the consequences… which is just funny, consider how astutely my undergrads note the risks. You'd think the Google team could keep up with our "intro to digital media" conversations.