Here's the route of today's discovery: reading about Philosophy Talk's recent award at the New York Festivals International Radio Competition => peruse former winners => see that last year's winner is a piece on how advertising created the "Happy Housewife" image => look into who made it => discover "The Age of Persuasion," a Canadian news program that "explores the countless ways marketers permeate your life, from media, art, and language, to politics, religion, and fashion."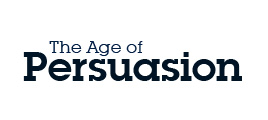 A quick survey of past episodes reveals a treasure trove for those interested in the persuasive tactics of marketers, mad and otherwise.  The archive dates back to 2008 and lists so many provocative titles (such as "Marketing the Invisible," "Sun Tzu and the Art of Persuasion," and "Man Women: The Great Women of Advertising") that I'm overwhelmed and not sure where to start.  A lovely predicament.
Head over to The Age of Persuasion and check it out for yourself!